September 11, 2019
Throwback Thursday: Marine Iguana Sunning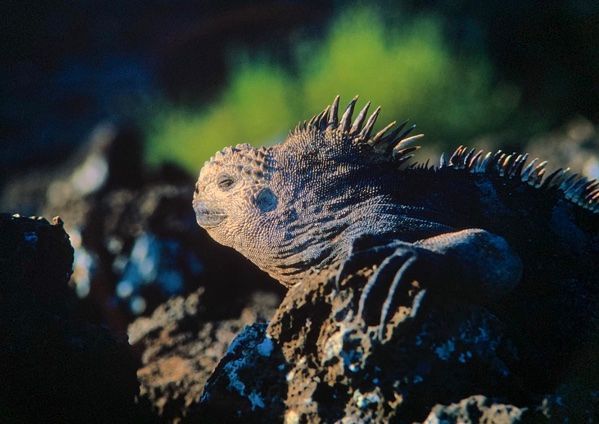 Academy Bay, Galapagos, February 1986
Captain Forrest Nelson sold his boat in 1960 to settle down at the end of the world: the Galápagos Islands. Academy Bay (population: 50 at the time) was slated to become home to the Darwin Station research facility. Forrest was hired as construction boss, taking his pay in bags of cement. With that cement he built cinderblocks. And with those blocks he built the Hotel Galapagos, the first in the islands. Still today, every small craft that sails into Academy Bay stops for a drink while filling up with fresh water harvested from rains that drain off the massive lobby roof.
The view from the bar is one of the most amazing in the world. Forrest told me after 30 years he still never tied of the view, watching the blue-footed boobies dive into the bay or the large marine iguanas scratch on the bottom of his lobby windows that look out onto the Pacific.
More than three feet long and weighing over 30 lbs., Darwin thought the iguanas were disgusting, but they became part of his research for Origin of Species. They're not tame, but have decided humans aren't going away, so they co-habituate. The islands are composed of the most inhospitable dry terrain on earth. The black lava rock either shreds the soles of your hiking boots or melts them. But to the iguanas, this is paradise: They sun on the hot rocks and dive as deep as 80 feet into the bay to dine on the algae. Despite all the amazing natural places on these islands, the hotel grounds are the best spot to photograph the iguanas, since they don't budge until you're a few feet away.
Read more Throwback Thursday stories.
---
Learn how this photo was copied from a 35mm Kodachrome slide with a Moment 10x Macro lens and an iPhone.
---
Why buy me a coffee? No third-party ads, no affiliate links, no tracking cookies. Just honest content. Thanks.

---
Previous post
The hard-to-find answers to your iPhone camera questions.
It's easy to get answers to the frequently-asked questions about your iPhone camera. But when Google fails… It does, just not with the built-in
Next post
How to upsize your photos on your iPhone and iPad.
In our world of large images that can stretch up to 50mp, I occasionally get asked if I have a larger version of an image. Shooting with my iPhone
All content ©J. Kevin Wolfe