August 14, 2019
Copying 35mm slides with the Moment 10x Macro lens and your iPhone.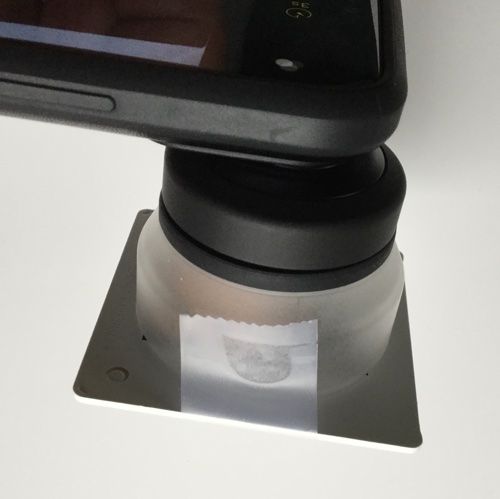 Somewhere in a shoebox you probably have a handful of precious family snapshots on 35mm slides that you've thought would be great to have on your iphone. Like that one of crazy ol' Uncle Fritz standing in front of an oncoming train long before death-defying selfies were cool.
If you have a Moment Macro lens accessory for your iPhone, Galaxy or Pixel, you can easily copy these yourself. Note that the technique below has been tested on an iPhone 10s Max and results with other phones may vary.
How to copy slides with your iPhone.
The process is fairly simple:
Mount the Moment 10x Macro (with diffuser hood) onto your Moment iPhone case. It's useful to wrap your diffuser in black tape to block ambient light coming in through the diffuser. You can also block it with your hand, as I did here.
Clean your slide with film cleaner And Dust-Off. The cleaner the slide is, the less retouching will be required later. Pec makes excellent cleaning stuff.
Tape the slide horizontally against the diffuser and orient the camera horizontally. I used a piece of scotch tape at the top and bottom, as shown in the photo above.
Hold the phone over a softly-and-evenly lit sheet of white paper. Be careful not to create shadows on the paper with your body or the phone. I've found diffused window light on an overcast day to be best.
Zoom out by pinching the screen until the edges of the slide mount are cropped out.
Snap the shot.
Examine the image to decide if you need to shoot another at a brighter or dimmer exposure. If so, drag the slider next to the focus frame to adjust and shoot again.
Editing the photo.
Your photo will likely benefit from editing: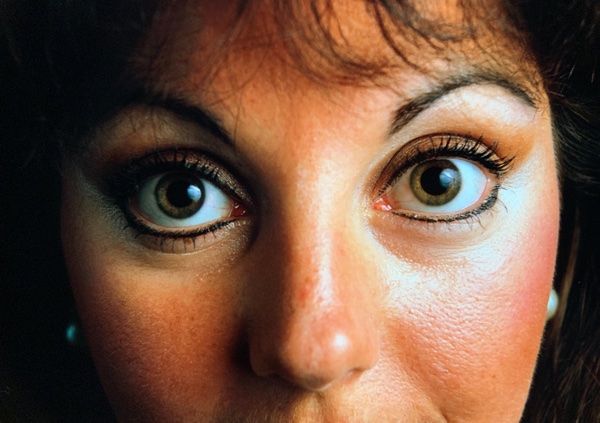 How do the results compare?
I was really shocked at how good results can be when an iPhone and Moment Macro are paired with a sharp slide, as seen in the copied image above. I have a Wolverine Film to Digital Converter that copies with a 20mp-sensor and fixed-lens that sells for about $150. The 12mp images I'm getting from my iPhone Xs Max and the Moment Macro look sharper and have a smoothness that's more true to the original than I get with the Wolverine. There are print scanners that can do slides at a higher resolution than the 12mp iPhone camera, but you'd have to step up to the $1,000 Epson Perfection V850 for that. A quality, dedicated film scanner can cost even more.
There's also the option of professional slide scanning services. But be careful of what they offer: Often the resolution is lower than you'd get from your iPhone. (The final resolution of a copy from a 12mp iPhone camera is 4032 x 3024 pixels.)
It'll be tough to find an easier and less-expensive way to get sharp copies of your vintage slides than you can get with the Moment Macro. They look nice and crisp on your phone or iPad and can be printed sharp up to 8x10". And wouldn't it be nice to have a print of Uncle Fritz on your wall as a constant reminder of how the gene pool weeds itself out?
If thinking of buying a Moment Macro Lens, please buy through this link. As a Moment Ambassador, I get a small commission, which helps to keep this site going. Thanks.
Read more on iPhone photography
---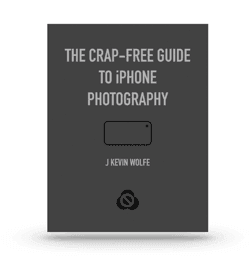 Get the definitive book for mastering your iPhone camera: The Crap-Free Guide to iPhone Photography
---
---
Previous post
The Minimalist iPhone Shoot Kit: Your phone, your brain.
Many famous photographers (Henri Cartier Bresson and Steve McCurry among them) shot with a 35mm camera body and a 50mm prime lens most of their
Next post
Want to thank me? Buy Me a Coffee.
You give people advice on Quora. You write a blog post to review something you've found useful. You do a quick video to show how to do something