April 29, 2021
Throwback Thursday: Commercial Graffiti.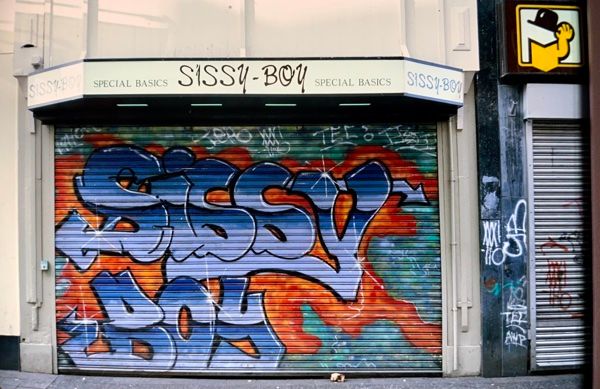 Shop graffiti, Amsterdam 8/23/86
In Amsterdam, a city famous for Rembrandt, Vermeer and Van Gogh, you might graffiti would be the ultimate insult to art. But no, Amsterdam embraced Graffiti as modern art and became somewhat of the Tagging Capitol of Europe. In 2007, the mayor of Amsterdam, Job Cohen, during an official event, pulled out the golden spray can to tag a large public graffiti work. There's even a Street Art Museum.
Back in the '80s, there were so many tagging crews in Amsterdam, it seems the cops gave up. Shop owners added rolling steel security doors, in part, to keep artists from tagging their windows. But they soon discovered what great canvases steel doors made. Sissy-Boy, an upscale clothing chain, decided to embrace the scene and hired an artist to paint their rolling door. Since the first commandment of graffiti is "Thou shalt not tag over the work of others", this gave the store control over what was painted on their door. And should a rogue violate the credo, the original artist just came back and touched upon their work as a matter of pride.
Read more Throwback Thursday stories.
Learn how this photo was copied from a 35mm Kodachrome slide with a Moment 10x Macro lens and an iPhone.
---
Why buy me a coffee? No third-party ads, no affiliate links, no tracking cookies. Just honest content. Thanks.

---
Previous post
Personal shorthand for your iPhone or iPad.
Text replacement can speed up your typing in iOS whether using the onscreen keyboard of an iPhone or the the Magic Keyboard on an iPad Pro. The
Next post
Throwback Thursday: The Horses of the Himalayas
Elephant Transport in Nepal, Olympus XA, March 1988 I never could quite fall into that protest against Nepali elephants. It finally occurred to me
All content ©J. Kevin Wolfe