May 20, 2021
#ThrowbackThursday: Cold Coca Cola
Learning Capitalism in China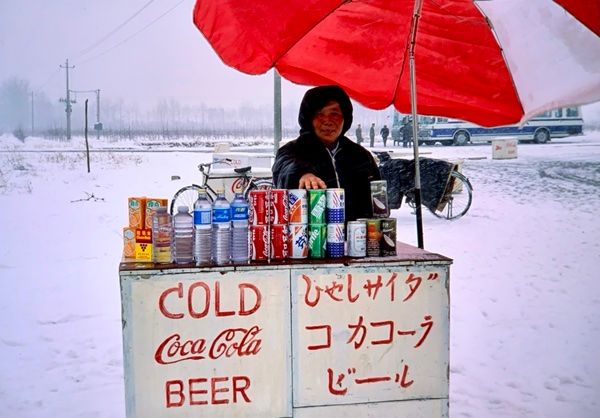 Ming Tombs, China, March 1991
They say it never snows on the road to the Great Wall of China. They lie.
By the time the bus arrived at the Ming Tombs the snow was really coming down. The soldiers discussed the situation with the driver. The driver discussed it with the tour guide. The tour guide discussed it with us: The rest of the road to the Mutianyu portion of the Great Wall was covered with snow and ice. When the guide said the driver knows these mountain roads well and had made the trip in snow before, the driver half cracked that "the-government-tells-me-not-to-disappoint-you" smile. We looked at the bald tires of the bus. We didn't see 1,000 good Chinese citizens with brooms sweeping the road like everywhere else in the country, since this place is so remote few good Chinese citizens live nearby. So we decided to turn back.
Completely prepared for summer, this smiling woman was selling ice cold Coca Cola. But at that moment, thinking of crawling back into a big bus with a faulty heater, all we wanted was some hot Jasmine tea.
Read more Throwback Thursday stories.
---
Learn how this photo was copied from a 35mm Kodachrome slide with a Moment 10x Macro lens and an iPhone.
---
Why buy me a coffee? No third-party ads, no affiliate links, no tracking cookies. Just honest content. Thanks.

---
Previous post
Throwback Thursday: The Horses of the Himalayas
Elephant Transport in Nepal, Olympus XA, March 1988 I never could quite fall into that protest against Nepali elephants. It finally occurred to me
Next post
#ThrowbackThursday: Mile-High Dunes
Great Dunes National Park, March '83 While the spectacle of the Rockies is amazing, I do believe that the most fascinating site in the state is
All content ©J. Kevin Wolfe