November 14, 2020
Why I can't recommend buying the 12-inch Drume Hand.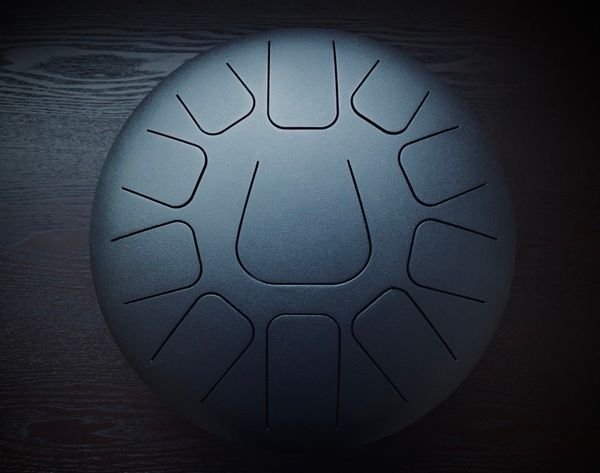 This article is a cautionary tale of the buying experience that soured me on purchasing this steel tongue drum from DrumeMusic.com. If you read my reviews regularly you know I seldom write a bad review. (I'd rather steer you to something good and generally just don't publish reviews of the lousy stuff.) This one is a little different: It's a negative review of the buying experience and a positive review of the drum itself.
Why did I buy from Drume Hand?
Admittedly I was lured in by the gimmick of a $475 tongue drum discounted 60% to $190. The site said it had 63 reviews averaging ★★★★★, which you can't actually read. I thought maybe the company had struggled because of COVID19 and was offering the deep discount to get sales moving, so I bit. This is what happened:
June 29 Ordered a Drume Hand drum, received a notification that the order was on its way.
July 7 Received another email that said the order was on its way with the tracking number that showed the label was created.
July 13 Tracking showed the drum had not shipped. Sent an email requesting a status update. Got an automated reply showing the message was received.
July 15 Tracking listed the shipment as cancelled.
July 15 Requested by email that my order be cancelled.
July 16 Received a reply from Andre B. at Drume that my order had already been shipped through FedEx.
July 16 Checking with FedEx, a label was created on July 14, but not shipped.
August 6 Asked for a status update from Drume on refund or shipment by email. No reply.
August 13 Sent a direct message to Drume on their Facebook page asking for an update/refund.
August 14 FedEx still listed the label as created, but not shipped.
August 17 Received a FB message from Drume that it shipped. FedEx still showed only the label created. Drume said it would take 2-3 weeks to get here.
August 21 Sent another email noting that I'll have to revoke the charge on my credit card.
August 28 Two months after ordering, the Drume Hand finally arrived.
August 29 FedEx tracking switched from not shipped to delivered.
August 29 Joyce H. from Drume sent me a notification that FedEx said it was delivered. Wished me a "…lovely rest of your day".
As a company that pushes meditation, mindfulness and sound therapy, Drume Music certainly creates enough stress in buying that you need all those. During my wait, I had started investigating, which just led to more frustration. Drume's Facebook Page made satisfaction seem promising, but on close inspection I found a majority of the comments were negative ones about Drumes not being delivered, but these were quickly deleted by Drume. As of this writing, the Facebook page has been pulled down.
Drume Music claims to be a small US company "creating our own instruments since 2017". Though the company lists their location as Blair Mills, Pennsylvania and a house on Staten Island, all my communication appeared to be directly with China, where the instrument (and most cheaper tongue drums) are made. Despite their claim of being the original creator of this drum, it appears the company only resells them at hefty prices. The 12-inch Drume Hand not only looks suspiciously like the 12-inch Happybuy tongue drum on Amazon, but comes with the identical book and gear and has a logo stickered on. So even with the hefty discount, I paid more than twice as much as I could have for the same drum. You can also get the same drum for less than $60 on Ali Baba.
But don't expect you'll get your money back from Drume. As you can see above, I've tried, to no avail. According to a one-star review on Amazon, the buyer was told they could only return the Drume Hand if defective. Drume Hand has a one-star/D-rating with the BBB (removed as of 11/26/21) with a pattern of taking money, not delivering the drum and refusing to refund.
Just to be clear: All this is just fair warning on the buying process through Drume Music, not on the quality of the drum itself.
But is it a decent tongue drum?
Had I paid less than $100, I would say it's actually a good deal on a very playable,12-inch tongue drum. Since there's no real standard among tongue drums, it's worth pointing out what makes this one distinct.
It's well made.
Since tongue drums are made by hand, the quality can vary greatly. This one is made in a factory in China and the side seams are flawless and the tongues are cut cleanly. Time will tell how the matte-finish paint job holds up.
A majority of the better tongue drums are made from the top and bottom of a 3.5mm steel propane tank welded together. This one is 2mm-thick and supposedly made from a steel-titanium alloy, also welded from halves. This puts it closer in thickness to a handpan or a Rav Vast than to a traditional steel tongue drum and it weighs less than half of what a tank-made drum does.
Design is just okay.
While tongue drums made by amazing individual craftspersons out there can approach acoustic perfection in their design, those made in Chinese factories (as a rule) may not. On this one, if you isolate the E or B tongue by holding the other tongues around it, the sustain is a bit dead. The real problem is the F tongue has almost no sustain at all when isolated. Curiously if you unmute just the center tongue, the sustain on the F tongue is fine. Since it's a design flaw, there's really nothing you can do about this, except learn to play around it. And when played unmuted, the sustain on the thinner metal is very good with the whole drum vibrating massively.
The sound is reasonable.
The 2mm alloy makes the tone very different than a 3.5mm-thick tongue drum. It's not that one is necessarily better than the other, there's just a different character to the overtones. For the beginner, this may be a better choice for two reasons: The tongues respond well to a lighter touch for playing with fingers and you can get it for 1/4 the price of a shop-made tongue drum to find out if you really like this instrument. The Ali Baba page has a short video of the sound.
It's fairly in tune.
The tuning is chromatic C Major with all whole notes from G3 through C5. Chromatic C Major plays very well with other instruments, but is a rather boring and overly-happy scale. The pitch of the tongues is fairly accurate. Note that tongues on any drums can go out of tune with age, abuse, temperature changes, etc. This seems to affect thinner drums a little more than the thick tanks. This drum is nice for beginners or for those looking to add a tongue drum to your recordings.
My take.
If you get this drum for less than $100, it's a good starter drum or nice for therapy. I highly recommend a 12" drum to begin with. The smaller 6" or 8" drums are not as easy to play with fingers and many are higher pitched and lack the rich resonance and sustain.
---
Why buy me a coffee? No third-party ads, no affiliate links, no tracking cookies. Just honest content. Thanks.

---
Previous post
Shortcuts by keypress on iPad Pro.
As Shortcuts grow in power, they also increase in ways you can trigger them. A very cool trigger (but with some fine print) is via keypress. You
Next post
Eggnog Waffles.
INGREDIENTS 1 1/2 cups of Belgian waffle mix 1 cup + 1 tablespoon of eggnog DIRECTIONS Mix well. Pour into hot waffle iron and close. Cook until
All content ©J. Kevin Wolfe