September 27, 2023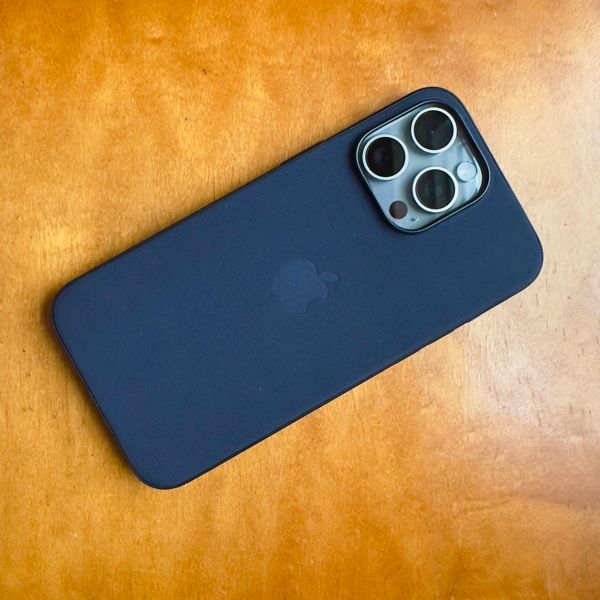 Is the iPhone 15 FineWoven Case a sign of the End of Days?
You'd think so with the reviews. But it's not. It's just a new case that replaces iPhone's leather cases. Why is Apple shifting away from leather? No, Tim Cook is not giving up egg whites for breakfast and going vegan. It's just part of Apple's commitment to being carbon neutral by 2030. If you'd like the fine details on FineWoven, iFixit did a fairly unbiased review.
Does the FineWoven case suck horribly awful bad?
Not really. I think the wailing and gnashing of teeth is pretty much a nothing-gate by critics trying to get page views.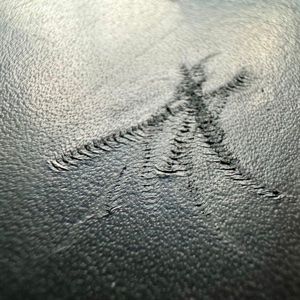 Fingernail scratches on iPhone leather case.
If you scratch the FineWoven case with your fingernail, it shows. But likely no worse than if you scratched a leather case as in the photo above. The curious thing is the reviewers don't seem to purposely scratch a leather case in comparison as I did above with my old iPhone 14 Pro Max case. Leather may be able to heal better than FineWoven if you rub it. I'm not sure. I don't feel the need to purposely scratch the Finewoven case, since it should get the same care as my leather case did (at least before I retired it and purposely scratched it here.)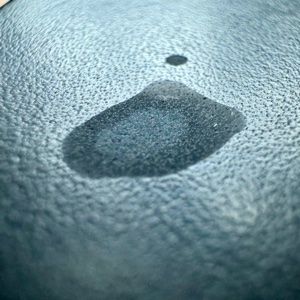 Water stain on iPhone leather case.
Another shocker: A highly-respected reviewer reports his FineWoven case stained when he set it on a wet bar. As you can see, the leather case stained as well. The question is: Why would you leave your $1,000 phone on a wet public bar anyway?
And the quality of the FineWoven case? It seems to just completely rip apart if you put a whole lot of effort into completely ripping it apart. Jeesh.
It's a case, people. Does it feel grippy enough in your hand? Likely. Does it protect your iPhone just as well? Probably. You already know it will age, but will it age as nicely if you treat it like you would a fine leather case? Remains to be seen. The point here is most people don't treat a leather case like the reviewers treated the FineWoven. (Except me, to make a point.)
There was also a report (and a photo) of the cutout for the USB-C cable being so far off center that Apple engineered it so only Apple USB-C cables would fit. Nope. Looking at the photo the speaker port on the left is too small as well. (It has only three holes when there should be four.) Manufacturing defect in an early promo case? Knockoff? Photoshop? Unknown, but I ordered my case the day they became available and mine is fine.
My take.
Seems to me you can walk in an Apple Store, touch a Finewoven case, see if you like it and move on if you don't. (That's what I did with Apple's silicone case.) Do I like the FineWoven case as much as the leather case? I'm not sure. It may be that I like how it ages. How would anybody know since we've only been using them for a week?
And if you want a leather case, What's the problem? There are plenty out there.
---
Well, wasn't that different take than the marauding horde of reviews. If you like honest content, consider buying me a coffee below.
Why buy me a coffee? No third-party ads, no affiliate links, no tracking cookies. Just honest content. Thanks.

---
Previous post
The news you need to know. 9/23/23.
Adena mound, Cedarville OH. My photos available from Envato. Close to my heart: Ohio indigenous burial mounds declared UNESCO World Heritage Sites.
Next post
The news you need to know. 9/30/23
iPhone FineWoven case. My photos available from Envato. Shameless Plug: Is the iPhone FineWoven Case a sign of the End of Days? Man's emotional
All content ©J. Kevin Wolfe