August 29, 2019
Throwback Thursday: Burial at Sea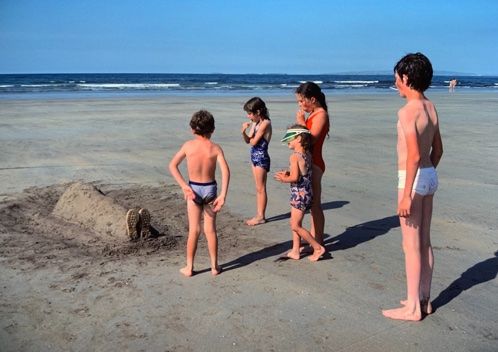 Dingle Penninsula, Ireland 1984
Somewhere in my travels I got this idea for a sand sculpture that looks like a burial mound with my hiking shoes sticking out of it. I re-constructed Burial at Sea wherever I found a beach. Never failed to draw a crowd, even on this remote Irish beach that was seemingly uninhabited moments before.
The first time I did this artwork, my friend Chuck and I were visiting penpals in France and Spain. We were staying in Bordeaux at Marie France's family dairy farm. Her father introduced us to his homemade L'eau de Vie and joked we spoke French like Parisians because we said wee with our lips drawn taunt. In the provinces they said a lazier way where the mouth drops open a bit and there's no energy applied to the face muscles whatsoever. (When we got back to Paris we continually said way so the Parisians could hate is for both being Americans and having learned French from country folk.)
Marie France took us to the beach to see the spectacle of the entirety of France inhabiting the southern half of the country the two weeks after Bastille Day. As she lay sunning in a bikini, I created the first Burial at Sea beside her. She tried to maintain her composure, but couldn't as she translated the comments:" "I'll bet he's hot under there." "Has anyone contacted the gendarmes?" "Did they try resuscitation?" Even at a tops-optional beach, it caught quite a few eyes.
Probably the most important thing I learned that day was that many of those who go topless at a public beach probably shouldn't. It frightens the children.
Read more Throwback Thursday stories.
---
Learn how this photo was copied from a 35mm Kodachrome slide with a Moment 10x Macro lens and an iPhone.
---
Why buy me a coffee? No third-party ads, no affiliate links, no tracking cookies. Just honest content. Thanks.

---
Previous post
Bringing sculpture to life with your iPhone and the jitterbug effect.
I'm obsessed with making sculpture appear more human. Sculptors intended for their work to be a representation of life, so it seems logical that
Next post
Throwback Thursday: The Mirror Lake
[](/public/tt-mirror-lake.jpg "Reflection of mountain in lake Matheson, Fox Glacier, New Zealand) Lake Matheson, New Zealand, July, 1982 I met Deb
All content ©J. Kevin Wolfe