September 28, 2022
The Crap-Free Guide to iPhone Photography v8.0 released.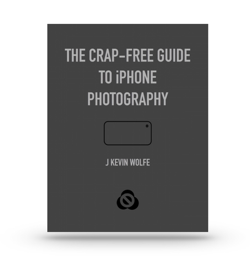 The definitive book on iPhone photography: now updated for iPhone 14 cameras and iOS 16.
The Crap-Free Guide to iPhone Photography, has been updated for iPhone 14 Pro and iOS 16. As always, updates are free for those who buy the book.
So what's up this update with the new iPhone 14 Pro cameras?
The 48mp stink: It just means a little better photos and video.
With each generation of iPhone Plus/Pro models with 12mp sensors, all the cameras get a little better: The lenses are a little faster, the sensors are a little more accurate, and the computational algorithm gets improved. This equation (with the 12mp sensors) has been the iPhone norm for 7 years. But with iPhone 14 Pro the 1x camera is 48mp and many reviewers are outraged.
Whuh?
They either don't understand that the 48mp sensor was put there to serve more than one purpose. Or they're looking for a sensational story to boost their YouTube/Amazon revenue.
Let's look at who this bigger sensor actually benefits:
Photography