May 27, 2021
#ThrowbackThursday: Mile-High Dunes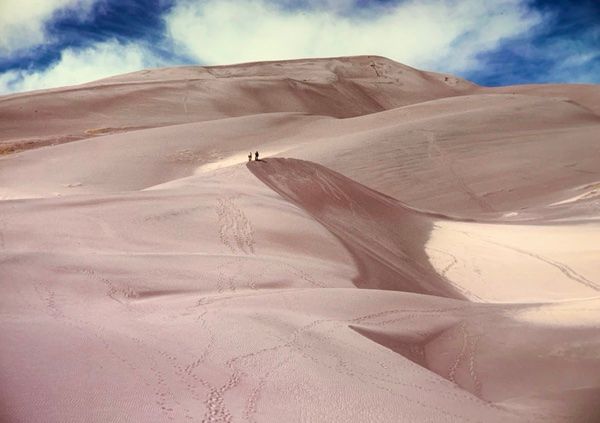 Great Dunes National Park, March '83
While the spectacle of the Rockies is amazing, I do believe that the most fascinating site in the state is Great Dunes National Park. Nestled in a mile-high mountain valley is a 30-square mile desert with dunes that crest at 750-feet above the floor. How'd the sand get there? As the lakes in the valley floor dried the wind piled the sand.
The dunes are steep. So steep they duneboard on them. You honestly sink a foot back in the sand for every two feet you walk up. It makes the 1.3-mile trek to High Dune (the highest in the front range of the dunes) at 700 feet take well over an hour. The last time I was there on a cold February day, I flopped over the top of High Dune, exhausted—only to find a family of four sitting there peacefully sipping hot chocolate. The humiliation was probably what Sir Edmund Hillary would have felt peaking Everest for the first time only to find a wedding going on up there at the top of the world.
Read more #ThrowbackThursday stories
Learn how this photo was copied from a 35mm Kodachrome slide with a Moment 10x Macro lens and an iPhone.
---
Why buy me a coffee? No third-party ads, no affiliate links, no tracking cookies. Just honest content. Thanks.

---
Previous post
#ThrowbackThursday: Cold Coca Cola
Ming Tombs, China, March 1991 They say it never snows on the road to the Great Wall of China. They lie. By the time the bus arrived at the Ming
Next post
Three Ways to Fake a Crema in Stovetop Espresso
Cuban Crema, just like Abuela used to make If you're a moka pot owner, it's likely you've hit on making a pretty good espresso on your stove. But
All content ©J. Kevin Wolfe