January 22, 2020
Bling it on.
How to accessorize your Roland SP-404 sampler.
Legends: Dibia$e and the Late Ras G with his 404.
The Roland SP-404 remains an enigma among samplers with approximately one million units sold. Numbers aside, what's most interesting about the SP-404 is the bling factor: No other sampling work station is as personally modded with stickers, custom skins, colorful knobs, etc.
Why accessorizing your SP-404 is the norm.
Much of what we own today is like what everybody else owns, so we feel a need to personalize our stuff. For example, people put their their iPhone with a unique case so it looks different than the 2.2 billion other iPhones out there. Same with the SP-404: If you're in the club with three other DJs with SP-404s, you want to make sure you know which one is yours. Since the form factor hasn't changed for 15 years from the original through the SP-404SX to SP-404A, third-parties have a found a steady market for SP-404 mods, making it real easy to personalize. Everyone seems to mod and there's a lot paraphernalia available to do it with.
Knobs.
DJ Tech Tools' Chroma Caps are the most popular knob covers for the four dials on top of the SP-404. But it's not just about looks: Chroma Caps are a functional improvement over the original knobs. They have rounded edges for comfort and are covered with rubber for a better grip. I prefer the Fatties. These allow you to smoothly roll your SP-404 knobs with one finger. Some producers (and we're all producers, aren't we?) like these all the same color. Others find multicolor makes it easier to identify the knobs or just makes it more yours. The glow-in-the-dark Chroma Caps make the knobs more visible in a dimly-lit club or for making beats in total darkness. (If you haven't tried the ethereal experience of making beats in the dark yet, you should.)
Chroma Caps are really easy to install: Just pull straight up on on the stock knob covers and slide on the Chroma Caps.
Stickers.
Jade Wii's SP-404 wit da mos dosa stickas
One thing that makes the SP-404 really moddable is that you can easily take off the top plate by removing four M3x10mm hex screws. Remove the face and you can add any kind of sticker anywhere on it, then flip it over and use an Exacto knife to cleanly cut off anything that laps over the buttons. Some producers stickerbomb their face plate, others just sticker the sides so all the labels around the buttons are still visible.
Skins.
Skins are like a new paint job for your SP-404. They're giant plastic stickers that completely covers the SP-404 face plate and come with all the holes precut. The advantage of these over stickers is that they usually contain all the original labels. There are many skins available.
Faceplates.
One problem with the aluminum face plate that comes with the SP-404 is the top and bottom have a lip that sticks out and dents easily. You can replace this with a plastic faceplate
## Paint. There's also the possibility of painting your cover to really personalize it, but I'm not finding many examples of people who've tried it.
Pads.
You can replace the rubber pads with thicker pads. These are available in three color options, extend the pads 1.5 mm and have a softer feel. Some find them more playable than the original pads.
Hex Screws.
They're standard 3x10mm metric screws. You can get rounded tops for a lower profile, thumbscrews that remove with a twist of your fingers, Phillips slots for quicker face removal or in colors.
Magma Case.
Since the SP-404 is battery-powered, portable and fits in a backpack, cases are really practical. The Magma CTRL case was built specifically for the SP-404 and provides a snug fit and serious protection from dings, dust and the elements.
Kolibri Stand.
This Kolibri stand from cremacaffe is portable and puts the SP-404 at an angle that's easier to play when working on desktop, cafe table, or on a visit to the club. Honorable mention for their SP-404 Keychain.
Decksaver Cover.
If your SP-404 sits out all the time on your desk or console, this clear plastic cover will help keep the dust and Red Bull spills out.
Chroma Cables.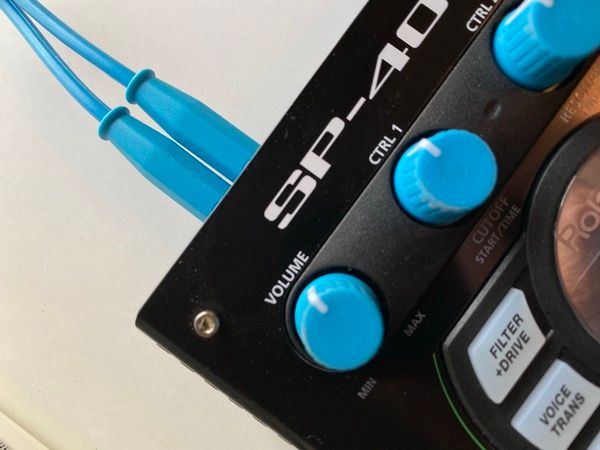 Chroma Cables match Choma Caps, so you can color-coordinate. Or uncoordinate.
My take.
I've pointed out that bling takes a thing that everbody has and makes it your own. Why do we feel the need to do this with an SP-404 over bigger, more powerful samplers? I think it's the portability. The SP-404 goes where you do and is regularly seen in the wild. Unless you've got Sherpas, you can't take your Akai MPC 500 and a generator up a mountain. So the bulky MPC 500 remains unseen outside the studio, while the SP-404 is seen everywhere.
People have also hacked their SP-404s to give it new superpowers. But that's a story for another time. I leave you with Cruel Buddhist live atop Yellow Mountain.
---
Why buy me a coffee? No third-party ads, no affiliate links, no tracking cookies. Just honest content. Thanks.

---
Previous post
Current pedal obsession: Recovery Effects Dirty Murals v3 Delay+Reverb
Graig Markel at Recovery Effects creates so many wonderfully quirky pedals. So it's hard to imagine the latest version of his Dirty Murals rabid
Next post
How to play Hyve Touch Synth.
Keyboard players have a real disadvantage when they first lay their hands on Hyve. Sure, your keyboard knowledge is of great use, but your keyboard
All content ©J. Kevin Wolfe