August 21, 2019
Throwback Thursday: The entreprenettes.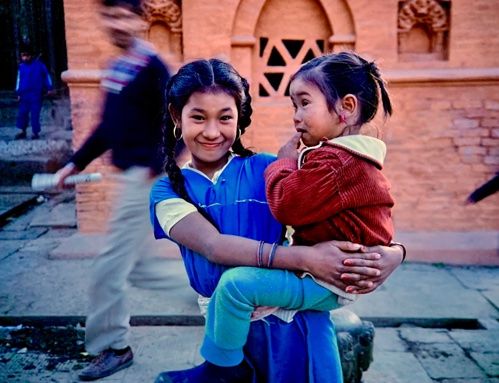 Kathmandu March, 1988
In Nepal, everyone's ingenious. They have to be. They don't have much because they're at the top of the world: Everything has to be trudged uphill to get there.
This tribe of girls (can't be one over ten) were made responsible for babysitting their toddler sisters. But they didn't let this drudgery interfere with their business model. As a matter of fact, they put childcare at the heart of the endeavor.
They parade themselves in their best clothes and jewelry, lugging around the toddlers and smiling big for the tourists' cameras. Click.
They say "rupees" and they've got you. You hand over few. Then you know the real reason they're smiling big.
Read more Throwback Thursday stories.
---
Learn how this photo was copied from a 35mm Kodachrome slide with a Moment 10x Macro lens and an iPhone.
---
Why buy me a coffee? No third-party ads, no affiliate links, no tracking cookies. Just honest content. Thanks.

---
Previous post
Want to thank me? Buy Me a Coffee.
You give people advice on Quora. You write a blog post to review something you've found useful. You do a quick video to show how to do something and
Next post
Bringing sculpture to life with your iPhone and the jitterbug effect.
I'm obsessed with making sculpture appear more human. Sculptors intended for their work to be a representation of life, so it seems logical that
All content ©J. Kevin Wolfe