October 16, 2019
Throwback Thursday: The cascade at Gavarnie.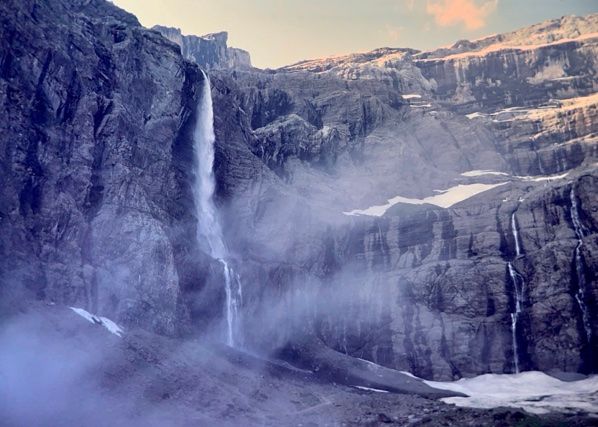 Cascade du Gavarnie, July 1982
It had been an exhausting 10 days. Chuck and I had visited penpals near Luxembourg, in Bordeaux and Barcelona. They ran us ragged seeing the sites, so we decided we needed a vacation from our vacation.
Driving north from Barcelona in a brand-new, rented, now beat-up Peugot, we cracked the Michelin guide at random to Gavarnie, a tiny town a mile up in the Haute Pyrenees on the border of France and Spain. Driving in at dusk, we could make out a thin white line against the peaks. As the light dimmed, we settled on the idea that it was ice in a crevice and worthy of exploring the next day. It must have been 9:30 when we checked into the hotel and found a outdoor cafe still open and a few guys with climbing ropes nursing bottles of Kronenbourg and sore knees.
Getting up far too early (still a bad habit from doing a morning radio show) I decided to hike the two miles in to check out the crevice. It was still dark when I started and a mile down the trail the remote Hotel du Cirque looked abandoned through the dim light and thick fog. I'd passed a river and the water sounded like it was raging everywhere around me when I decided I needed to wait for the sun to rise and burn off the fog to make sense of it all. I rolled up my sweater as a pillow and lay down on a flat spot near some grazing sheep.
I opened my eyes about a minute later. Through the lifting fog I could now tell I was within a bowl of cliffs and this 1400-foot-high waterfall revealed itself right in front of me. I later tried to see if I could touch it, but the spray was so powerful as it cascaded onto the rocks that you couldn't reach it. The cloest I could get was leaning my full body weight into the spray and it actually blowing me back.
It was amazing to be the only human witnessing this. As I headed back, I said "bonjour" to one person, then another and another. I stopped counting at 137, but passed at least 1,000 people all headed to where I'd justy been. Including Chuck, who I almost missed in a crowd. Back in Gavarnie, Arribere Dessus was lined with tour buses. I asked the clerk at the hotel if it was mayhem like this every day. He said: "Non. Every other. Tomorrow you'll have Gavarnie to yourself while the tour buses invade Lourdes."
Read more Throwback Thursday stories.
---
Learn how this photo was copied from a 35mm Kodachrome slide with a Moment 10x Macro lens and an iPhone.
---
Why buy me a coffee? No third-party ads, no affiliate links, no tracking cookies. Just honest content. Thanks.

---
Previous post
Throwback Thursday: The tchotchke runners.
Tchotchke Runners, Li River, China, March 1991 The tour boats cruised about 20 miles down the Li River from Guilin. It was winter and inside the
Next post
Throwback Thursday: El Drac
El Drac, Barcelona, July 1983 El Drac (The Dragon) guards the entrance to Park Güell. While the Sagrada Familia church is considered Catalan
All content ©J. Kevin Wolfe