April 3, 2016
Recipe: The world's most expensive spice mix.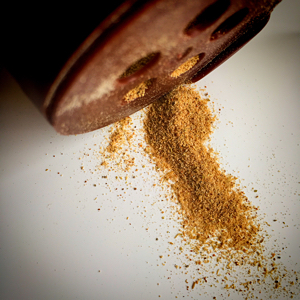 For Turkish coffee and whatever
The six most expensive spices in the world, when properly blended, have a magical flavor. This recipe was created for Turkish coffee, but can be used anywhere you normally use sweet spice mixes, like apple pies, cider and chai. 1/4 teaspoon of this added to a pot of Turkish before you cook it mellows the bitterness and brings out the richness in the beans. Though the least pronounced of the flavors, the subtle vanilla is the key. Sorry to be so picky with some of the ingredients, but the added expense and trouble to get the right ingredients are worth it.
2 T Deep Brand Cardamom (ground)
2 T Neilsen Massey Vanilla Powder
1 t Vietnamese Cinnamon (ground)
1/2 t ginger (ground)
1/2 t Nutmeg (ground)
1/4 t Clove (ground)
7 strands of saffron (ground)
Mix and store tightly sealed, as the vanilla will cake from moisture.
To best blend this and get the most flavor, stir into the dry coffee in the pot and slowly add the water as you stir. Works well in the Beko electronic Turkish Coffee maker.
---
Variations.
Decaf Chai.
Mix the spice well with a few drops of milk and stir until it becomes a paste. Slowly stir in the rest of the milk. Can be made with warmed milk or cold milk and then microwaved.
---
Spice cake.
Box yellow cake mix and ingredients
1 T of spice
This is an easy way to turn a basic cake into something exotic. You can also add Zante currants or chopped dates. Goes well with caramel or cream cheese icing.
---
See more Turkish Coffee articles
---
Why buy me a coffee? No third-party ads, no affiliate links, no tracking cookies. Just honest content. Thanks.

---
Previous post
Beko and the tech of Turkish coffee.
UPDATE 3/11/17: Beko has a new version that's black, not silver. There are big style changes from the original. The coffee process slightly improved
Next post
Review: Painteresque Photo Effects for iOS.
Whatever photo editor you're using—well Painteresque is the diametric opposite of that. It's based on the way artificial intelligence sees things
All content ©J. Kevin Wolfe