March 24, 2023
Recipe: Pourable Amour Chocolate Sauce.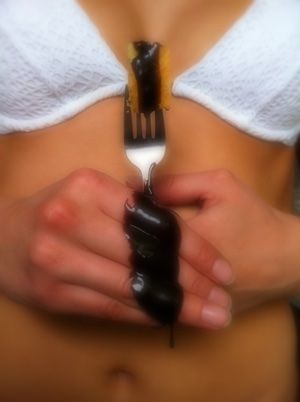 Sex and dessert are so closely related. And here's proof. This recipe seems to transcend that bitter/sweet ratio that chocolate lovers try to find their bliss in. It's so bitter and so sweet. The chocolate flavor is so potent, it completely masks the taste of the cream, while still mingling in hints of spice and coconut. The sauce is thick enough that it's not bullied by the microwave and potent enough that a drizzle goes a long way. A taste-gasmic experience.
---
INGREDIENTS
1 cup cocoa
2/3 cup sugar
1/2 cup brown sugar
1/2 cup Kahlua
1/2 cup butter
1 1/2 teaspoon vanilla
1/2 teaspoon cinnamon
PREPARATION
Mix all but the vanilla in a saucepan over a medium heat and stir regularly.
Boil 1 minute.
Remove and stir in the vanilla.
Can be served immediately. Lasts for months in the refrigerator.
SERVING SUGGESTIONS This naughty little sauce completely corrupts chaste vanilla cakes and ice cream. It's potent enough that it will stand up to spice cakes and chocolate cakes. Drizzle over fruit crepes. Plays well with whipped cream. Try it with this pound cake.
---
Those who want to see more decadent recipes buy me a coffee below.
Why buy me a coffee? No third-party ads, no affiliate links, no tracking cookies. Just honest content. Thanks.

---
Previous post
The Magic of Pound Cake
What's amazing about pound cake is that it shouldn't work at all. With only four official ingredients and no leavening, it can't even exist, but it
Next post
The truth about your iPhone Live Photos.
The problem with Apple's Live Photo is it doesn't really do what you'd assume it does. The belief is that Live Photo saves a series of images. But
All content ©J. Kevin Wolfe