January 8, 2022
Recipe: Crispy Noodles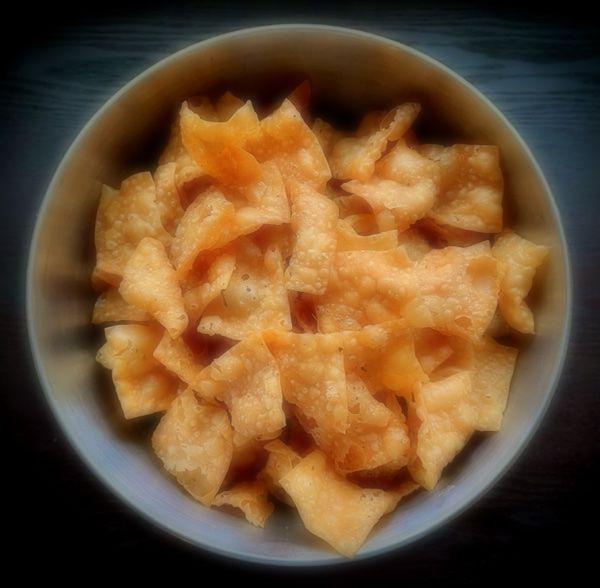 The crispy noodles that accompany your soup at an Asian restaurant are easy to make and taste incredible when fresh. If you've bought them packaged in the store, you know how (bland and sometimes rancid) they can taste after sitting on a shelf for months. You just need one ingredient that's available at most groceries or any Asian store and oil for frying.
I use this Presto Deep Fryer. They're cheap, safe and have a basket and temperature control that gives you consistent results. If not using peanut oil to fry, use a high-heat, oil such as sunflower.
---
INGREDIENTS
1 package of Wonton or Egg Roll wrappers.
DIRECTIONS
Set your fryer with oil to 390º or full heat.
If using Egg Roll wrappers, slice into to strips ½" wide. Is using Wonton wrapper (as pictured) slice into four squares or four triangles. Just chop through the whole batch.
Fry for 30-45 seconds. I put about 1/8th of the cut wrappers (separated) into my frying basket at a time and set it in the hot oil.
Drain, then cool in a heat-proof container (like a glass or metal mixing bowl). Placing a paper towel on the bottom will absorb more of the oil.
I've tried seasoning the chips, but honestly, they taste best as they are, with no salt or spices.
Serving Tip: Try with Kikkoman Egg Flower Hot and Sour Soup Hack
This blog makes no money from third-party ads or affilliate links. If you find the recipes useful, please consider buying me a coffee below.
---
Why buy me a coffee? No third-party ads, no affiliate links, no tracking cookies. Just honest content. Thanks.

---
Previous post
How to Create Slow-Motion, Blowing-Leaf Videos
This video of leaves blowing in slow motion was created by strapping my iPhone onto the snoot of a leave blower. It's a simple effect that required
Next post
Recipe Hack: Kikkoman Hot-and-Sour, Egg-Flower Soup
Egg flower soup is simple to make and an impressive-looking light meal. It's not all that hot. Or sour. But it's cheap: All ingredients for 2 ½ cups
All content ©J. Kevin Wolfe