May 28, 2017
Crap-Free Pix .com now part of wolfewithane blog.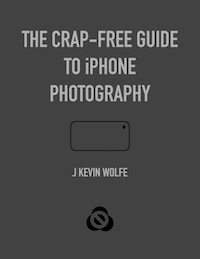 My book, the Crap-Free Guide to iPhone Photography was first published in 2015 and updated regularly for new iPhones and changes in the iOS. This ongoing project has been a lot of fun and has been the book I'm most happy with. With minimal marketing put behind it, sales have been moderate (which is considered exceptional by self-published eBook standards.)
Though the book is updated regularly, I also created the companion CrapFreePix.com site to post more in-depth articles related to topics in the book. Knowing I wasn't going to be able to devote the time to a really serious site, I started CrapFreePix.com as a series of articles on DayOne's Publish platform. This was extremely simple to make happen, but DayOne seems to have abandoned Publish.
I'm in process of moving CrapFreePix.com over as part of my occasional blog. Much thanks to David Merfield, owner of my blogging platform Blot. David did some magic behind the scenes to make my iPhone photography articles all get indexed on a special page connected to the CrapFreePix.com URL. If you're not familiar Blot, it's an automatic blogging platform that turns a Dropbox folder with text files written in Markdown (the de facto content markup language of the web) into blog posts. It's convenient to write posts on my iPad in ByWord app and move them to Dropbox. At $20 a year, Blot is a real bargain for those looking for control and editorial freedom a notch above what you get on Tumblr and Medium and for who don't want to deal with the quirks and complexities of WordPress.
Slowly new posts are being added and current Publish content is being revised and moved over. If you want to bookmark the page, it's up in the nav and at crapfreepix.com. Your comments are always welcome and Twitter is the best place for those.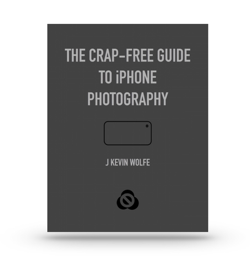 Oh, the book. (Wouldn't be much of a marketer if I didn't get in a plug for that.) The Crap-Free Guide to iPhone Photography is DRM-free, so it's readable on any ePub reader on any device. Updates are free forever. You can expect those shortly after the release of a new iPhone or a new iOS.
---
Why buy me a coffee? No third-party ads, no affiliate links, no tracking cookies. Just honest content. Thanks.

---
Previous post
Shift-Line Force Freezeverb
This cool little pedal from Russia takes the EHX Freeze concept and adds a modulated, high-feedback reverb along with options of sub/super octaves.
Next post
Review: Bluristic Camera App for iPhone.
Your iPhone Camera app is designed to freeze a moment in time, which is normally what you want. But Bluristic gives you a unique visual storytelling
All content ©J. Kevin Wolfe