June 29, 2020
What your Insta360 Go video actually looks like.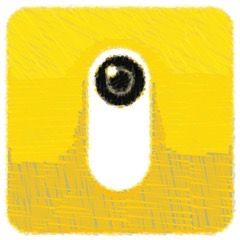 The video you see in the Insta360 Go app is not the video the Insta360 Go actually shoots. Wanna see what the video really looks like? This article shows you how to access and view the original Insta360 Go files. Ultimately you may not find these files useful, but it'll give you a serious appreciation for the amazing things the Insta360 Go app does.
The native video file your Insta360 Go shoots (as below) is square, panoramic (near 180º), very high-resolution (2720x2720), and not optimized (fisheyed, noisy, jittery and color-deprived). It's only when deeply processed by the Insta360 Go app that the video looks normal.
How to see the real video.
You're probably curious like me and want to see what your unprocessed Insta360 Go files look like. Here's how:
Put the Insta360 Go in its charger connect it to your computer with a cable via the USB Micro jack on the side of charger. Once plugged into your computer, it will read as a normal camera drive called NO NAME. Open it and you'll find the .insv video files in DCIM > Camera01.
Drag a file to your desktop.
Change the extension to .mp4
Turns out these files are basic .mp4 files shot at a bit rate of 40mbps and 25 or 100fps with a codec of H.264 and an SD color profile. They're playable as is, but as you can see from the hyper-lapse video above, it looks nothing like the normalized view you see in the Insta360 Go app.
Why the app is so darned amazing.
The video above is the same one processed with the Insta360 Go app. The Insta360 Go shoots video at a super-high resolution of 7mp. Compare the square original at the top of this article to the 1080 HD video above with a resolution of only 2mp. So why is the output of the Insta360 Go app "only" 1080 HD? The app processes the crude, high-res video and then crops, bends and enhances it to create normal-looking video. It also uses AI for FlowState stabilization by cropping to points in frames and to remove the jitters associated with action cams. (In the video above the AI did a misstep and shifts the video a few seconds in, probably trying to compensate for the moving clouds in the time lapse. You'll notice the shift is not in the original.)
Having all those extra pixels to work with gives the output files their smooth and steady movement, choice of orientation, choice of perspective. It also lets you do digital effects, like barrel rolls that can't easily be done with other action cams without professional equipment.
My take.
While it's cool to see the original video and get an understanding of how the Insta360 Go and its app works, the square, high-res footage will likely take some serious processing in a pro editing app to make it usable. You'll quickly find that since the free Insta360 Go app was built just for processing these videos, it's a much easier way to go to get good results. Note: if you want to make your unprocessed Insta360 Go still images readable, just change the extension to .jpg.
Read more Insta360 Go articles
---
Why buy me a coffee? No third-party ads, no affiliate links, no tracking cookies. Just honest content. Thanks.

---
Previous post
iOS Shortcut: Double Time Video.
I'm not sure why a double speed video always gets a laugh, but it may have something to do with seeing so many jittery Keystone Cops videos.
Next post
Insta360 Go Close Focus Test.
View this post on Instagram #Closeup #focus test of the #insta360go #actioncam A post shared by J. Kevin
All content ©J. Kevin Wolfe