October 3, 2023
The Crap-Free Guide to iPhone Photography v9.0 just released.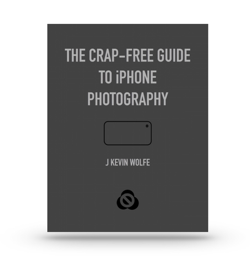 The Crap-Free Guide to iPhone Photography, now in its ninth year of publication, is available for $2.99 (US) from the Apple Bookstore. For those who have previously purchased the book, upgrades (as always) are free and available directly in your Apple Books app.
For the new gear, every year.
With each new year of iPhone models, new features are added. Menus change, so instructions need to be modified. When this book was first written (back in the years of single digit iPhone models) things were simpler. There was only one camera on the back of the iPhone. Now there are up to three. I would love to revise this book specifically for the iPhone 15 Pro Max, the model most who are serious about photography go for, but I know that a least a few readers have used the knowledge from this book to graduate to a Pro model from a basic iPhone. So I've kept the instruction basic and broad, showing how to shoot and edit on multiple models of iPhone.
New publishing platform.
The first draft of this book was written in 2013 in the Daedalus app from The Soulmen. It was the only iPad app at the time that could export an Apple-Bookstore-compatible ePub. Daedalus was essentially a light version (couldn't even add photos) of The Soulmen's powerful Ulysses text editor. Working with Markdown syntax, it was elegantly gesture-based and a dream app for those who just wanted to write. Marcus Fehn and Max Seelemann retired Daedalus and changed the name of the company to focus on Ulysses. v1-v8 of this book was published as an ePub directly from Ulysses on iPad.
But there are restrictions with publishing directly from Ulysses, the biggest being validation for epubs. Not Ulysses fault, but this kept the book small, at under 10mb. So for the sake of future-proofing, v9.0 is switching to publishing on iPad with Apple's Pages app on iPad. I'll miss writing in Markdown, but switching enables me to do more with media and increases the megabytes of content allowable. At the same time, I plan to maintain the book's leanness, which has been one of its best features, since it downloads, loads and functions so fast on iPhone. The book will always be written to be easily read in the Books app on iPhone so you have a handy shooting guide with you at all times.
Whether you're shooting with the three cameras on the back of the iPhone Pro Max or the single camera on the iPhone SE, I hope you find the book useful in getting the most out of your photography.
---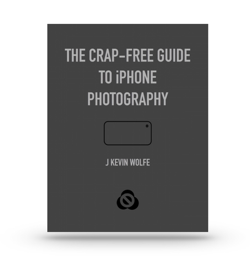 Get the definitive book for mastering your iPhone camera: The Crap-Free Guide to iPhone Photography
Why buy me a coffee? No third-party ads, no affiliate links, no tracking cookies. Just honest content. Thanks.

---
Previous post
The news you need to know. 9/30/23
iPhone FineWoven case. My photos available from Envato. Shameless Plug: Is the iPhone FineWoven Case a sign of the End of Days? Man's emotional
Next post
The news you need to know. 10/7/23
Cops caught dog driving car. Owner says it just jumped into his lap at the exact moment the speed camera caught him. Dish Network fined $150K for
All content ©J. Kevin Wolfe