September 28, 2022
The Crap-Free Guide to iPhone Photography v8.0 released.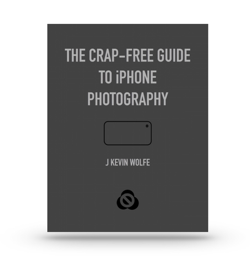 The definitive book on iPhone photography: now updated for iPhone 14 cameras and iOS 16.
The Crap-Free Guide to iPhone Photography, has been updated for iPhone 14 Pro and iOS 16. As always, updates are free for those who buy the book.
So what's up this update with the new iPhone 14 Pro cameras?
The 48mp stink: It just means a little better photos and video.
With each generation of iPhone Plus/Pro models with 12mp sensors, all the cameras get a little better: The lenses are a little faster, the sensors are a little more accurate, and the computational algorithm gets improved. This equation (with the 12mp sensors) has been the iPhone norm for 7 years. But with iPhone 14 Pro the 1x camera is 48mp and many reviewers are outraged.
Whuh?
They either don't understand that the 48mp sensor was put there to serve more than one purpose. Or they're looking for a sensational story to boost their YouTube/Amazon revenue.
Let's look at who this bigger sensor actually benefits:
The Pro.
Pro and prosumer photographers who've left their DSLRs behind can use the iPhone 14 Pro's 1x camera and shoot uncompressed 48mp images in ProRAW format. These images give you a dramatic improvement in detail. Shoutout to Halide who have already upgraded their camera app to give you 48mp in HEIF and JPEG formats as well. (In Settings > Camera > Formats > ProRAW Resolution to set the 1x camera to either 48mp or 12mp.)
The Joe (or Josetta).
The iPhone 14 Pro 1x camera uses Quad Pixels (pixel binning) to give everyone better 12mp images. By gathering information from 4 receptors (2.4 microns for one quad pixel) instead of 1 (1.17 microns from one normal pixel on the iPhone 13 Pro), all images benefit from sharper detail, smoother graduation of tones and truer colors, especially in low light. Also the 2x zoom is now optical, using the 12mp center portion of the larger sensor instead of digitally interpolating center pixels from a 12mp sensor as the iPhone 13 Pro does.
Those on the go.
iPhone video has always been great. By using the center 12mp of the 48mp sensor the Pro 1x camera can now do amazing image stabilization. The overlap allows the phone to give you rock-solid video by matching a 12mp area of the larger sensor as it shifts due to camera shake. It saves you the cost of a gimbal.
My take.
Another complaint I've seen: Why does only the 1x camera get 48mp? The 1x camera is probably used for 90% of images and video. So every year Apple makes it better than the other two back cameras. If all three cameras were of equal quality, none of us could afford and iPhone Pro.
Almost everyone who buys the iPhone Pro does so for cameras that are superior to last year's and lesser iPhone models. This year the 1x camera in the iPhone 14 Pro takes a nice leap with a 65% bigger sensor and bigger camera bump to accommodate the new 24mm⇔ lens. But for most of us, the tech talk doesn't really matter. All we need to know is that the new iPhone 14 Pro takes noticeably better images and video than any other iPhone so far.
---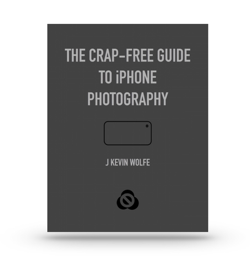 Get the definitive book for mastering your iPhone camera: The Crap-Free Guide to iPhone Photography Updates for the new iPhone models are always free.
Why buy me a coffee? No third-party ads, no affiliate links, no tracking cookies. Just honest content. Thanks.

---
Previous post
The Firefly Chronicles.
I live in a housing co-op in Cincinnati. The only thing our Membership seems split on is whether we live in a resort or a nature sanctuary. The
Next post
Recording a 37-second loop with the Red Panda Tensor.
The Tensor records a 9.6-second loop, but you can record a much longer, normal-speed, lofi loop. So how is this possible? When playing loops, the
All content ©J. Kevin Wolfe