March 6, 2016
Blogging on Blot.im with Write for iPad.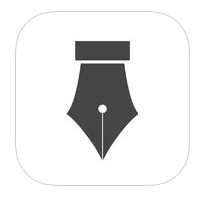 Write for iPad is versatile text editor that works well for web writers who write with Markdown. It's clean, has a practical toolbar and also has an inline preview. There's also an iPhone version for editing on the move. What makes Write great for Blot.im is that you can easily share your articles with your Apps/Blot folder in Dropbox. Blot then automatically posts them as blog articles or web pages. This allows you to use Write to pen posts in text, Markdown or HTML and publish them right form the app. I use Markdown and the workflow is simple:
Write your article or page in Write.
Tap the Share button in the bottom right.
Choose Open In and Copy to Dropbox.
Choose the folder path of Apps/Blot.
Tap the Save button.
You can also update existing Blot posts that you have saved in Write. Follow the steps above and choose Replace when asked.
Creating a basic folder structure.
Since Dropbox and Write both support folders, a simple structure will help keep things neat. I create identical folders in Write and in Dropbox/Apps/Blot. The extra steps of moving your articles to the folders on both Write (Slide left on file name in list, Choose Move, Pick the folder) and when posting to Dropbox (Pick Choose a Different Folder) will make it a lot easier to find your posts. I keep the folders high level for the main categories of posts: Food, Music and Photography. When you have a few dozen posts this idea will make a lot of sense.
Adding photos to posts.
One of the superpowers of Write is the ability to add images directly from the app. You tap the Photo button in your post and choose a photo from your iPad library. Write saves the photo to Dropbox and adds the URL to your post. This makes adding images easy, but the downside to this method is that the images are store on Dropbox, not the Blot servers. File size is not as much a concern as bandwidth, since Dropbox's free account has a daily max of 10G and a paid account has a daily max of 250G. Seems like a lot, but if your blog gets popular, you'll have to pay to upgrade Dropbox or move your photos to the Blot.im servers and republish all your posts with the new links.
The other option is to create a folder called Public in your Dropbox/Apps/Blot folder and drop your images there. Everything in your Dropbox/Apps/Blot/Public folder is assessable on the web. To add an image from this folder in a Markdown post:
![TitleGoesHere](/public/ImageFilenameGoesHere.jpeg)
Adding a center tag around the above will center your image:
<center>![TitleGoesHere](/public/ImageFilenameGoesHere.jpeg)</center>
If you just want to post an image without an article, Blot.im has a simple way to do this: Just drop the image into the Dropbox/Apps/Blot folder and it will automatically post. The title will appear as the caption. (iOS uses a wonky numbering system, but you can change the filename with the Dropbox app's Rename function.)
Write for iPad in the App Store
---
Previous post
What flavor is bubblegum?
There is no real easy answer for this. That's because bubblegum is it's own unique flavor that doesn't occur in nature. Yet it's so much a part of
Next post
Fishing for Ukulele String.
One of the not-so-secret secrets about the ukulele is that some of the best strings are made from fishing line. It's true. There are a vast number